Services
The Hospital has two wings, one Paid and other Free. About 70% of the patients report to the Hospital avail free services. All the patients get food free of any charge from the Hospital during their inpatient stay.

The Hospital also conducts Eye screening camps in the remote villages. The patients from the nearby districts also report for treatment. School screening programmes are also taken up from time to time.

A Sub-Center is being managed at Mylavaram with the financial help from Lakireddy Balireddy Charitable Trust. Our doctor visits the centre every Monday, screen the patients who will be operated at the Base Hospital.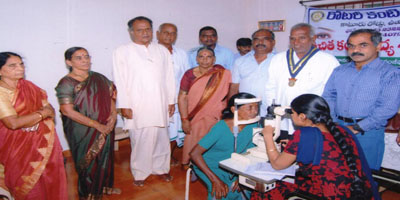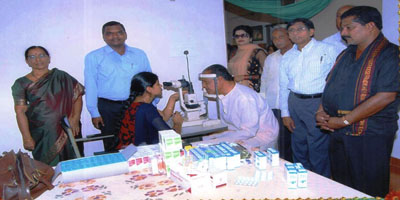 STATISTICS :
ROTARY COMMUNITY SERVICE TRUST

(ROTARY EYE HOSPITAL, VUYYURU - 521 165,ANDHRA PRADESH)

E-mail : rcstvuy@gmail.com Websie : http://www.rotaryeyecarevyr.org

PERFORMANCE FROM JULY 1988 TO DECEMBER - 2020

1) O P D
1569348
2) TOTAL PATIENTS EXAMINED (Out Reach)
388342
3) No.of School Children Screened
122898
TOTAL PATIENTS SCREENED
2080588
1) I O L SURGERIES
147920
2) NON I O L SURGERIES
31149
3) MINOR SURGERIES
16700
4) GLAUCOMA SURGERIES
2465
TOTAL SURGERIES
198234
CHILDREN CATARACT
597
OUT REACH SERVICES
1) VILLAGE SCREENING CAMPS
2105
2) TOTAL PATIENTS EXAMINED(Out Reach)
388342
3) NO.OF SURGERIES DONE AT BASE HOSPITAL
38526
4) ASSISTANCE TO HIV / AIDS PATIENTS
197
SCHOOL CHILDREN EXAMINATIONS
1) NO. OF SCHOOLS COVERED
833
2) NO. OF SCHOOL CHILDREN SCREENED
122898
3) NO. OF TEACHERS TRAINED
626